Posted Date: 03/03/2022 17:22:12
Posted By: Sikh Tours
Punjab, the land of five rivers, is one of the most fertile states in India when it comes to agricultural prowess. It has also played an important role in shaping the country's history and is known for one of the youngest religions in the country, Sikhism. It has a unique culture and several natural beauty places that make visiting Punjab a very interesting proposition for tourists from anywhere.
Another thing that attracts tourists to Punjab is visiting the ancient temples and Gurudwaras in Punjab. Some incredible journey destinations dissipated across the state can be visited through a portion of Punjab's most essential travels. This blog will explore the top 9 Sikh Pilgrimage places in India that you should visit once in a lifetime.
Sikh Pilgrimage Trips in India
With a huge number of Gurudwaras constructed all over India, the Sikhs have made probably the cleanest and best-coordinated spots of love in India. So this time, we have prepared a list of some of the best Gurudwaras in India for you to go beyond the known. Check it out:
1. Shri Akal Takht Sahib Amritsar
The Immortal or the Timeless throne was the first to be erected among the five Takhts by Guru Hargobind Sahib in 1606 near the Harmandir Sahib, in the Golden Temple complex, place of the supreme spokesman of the Sikh community. As the supreme seat of power, the social, political & religious decisions of welfare from the Akal Takht are respected & followed by the Sikhs worldwide. If you want to explore Amritsar, you can use the Amritsar Tour Package; otherwise, to explore Panj Takht, you can go for Panj Takht Tour Package provided by Sikh Tours.
2. Takht Shri Damdama Sahib, Bhatinda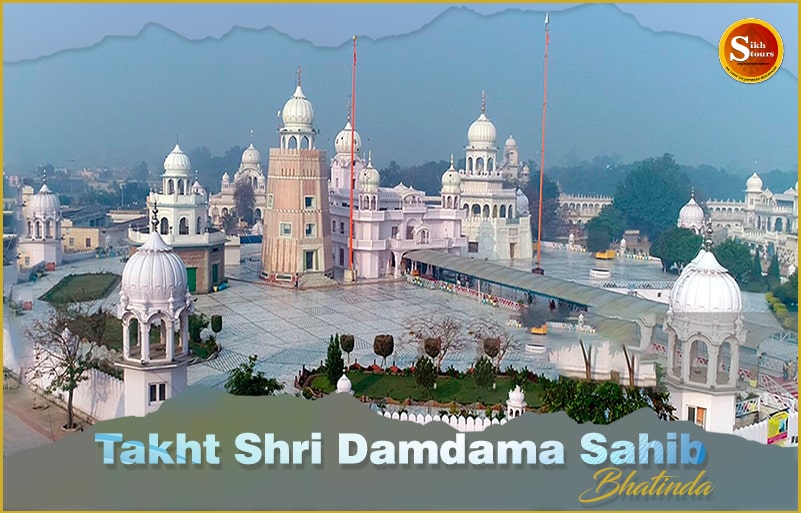 Takht Shri Damdama Sahib is located in the village of Talwandi Sabo near Bhatinda, Punjab. It is known for Guru Gobind Singh Ji, the most loved Guru and profound head of the Sikhs who incorporated the sacred writing of Adi Granth - Shri Guru Granth Sahib, otherwise called the Damdama Sahib Bir, in 1705. To visit here you can book your Damdama Sahib Tour Package from Sikh Tours.
3. Takht Shri Keshgarh Sahib, Anandpur Sahib
Takht Shri Keshgrah Sahib is known as the birthplace of the Khalsa founded by Shri Guru Gobind Singh Ji, situated in Anandpur, Punjab, on the banks of the Sutlej.
The sacred site also hosts the Hola Mohalla festival around March, a tradition introduced by Shri Guru Gobind Singh so that Sikhs can demonstrate their martial prowess in simulated battles. The celebration incorporates mock fights, presentations, weapon shows, and so forth, trailed by kirtan, music and verse contests.
4. Takht Shri Harmandir Sahib, Patna
Takhat Sri Harmandir Sahib is situated on the banks of the Ganges, in the city of Patna, Bihar, the birthplace of Guru Gobind Singh, where he also spent his childhood, before Anandpur, also known to have been a sacred place and one of the great Sikh pilgrimage places in India, visited by Guru Nanak & Guru Teg Bahadur at various times. Built by Maharaja Ranjit Singh, it also houses many historical holy relics of Shri Guru Gobind Singh.
They are an integral part in making the socio-political & religious decisions through the leadership of the Takhts - responsible for Gurmat decisions, proclamations and physical policies on worldly and spiritual issues of the Sikh society. Book your Patna Tour Package to make your journey smooth.
5. Takht Shri Hazoor Sahib, Nanded
Situated on the banks of the Godavari, Takht Shri Hazoor Sahib is the place where Guru Gobind Singh spent the last years of his life preaching and departed for his heavenly abode. It is located in Nanded, Maharashtra, famous for its many Gurudwaras, also known as Takht Sachkhand (the seat of the region of truth).
It stands on the same spot where the Guru was cremated, known as Angitha Sahib, along with a memorial to his memory. Constructed by Maharaja Ranjit Singh during the 1830s, it houses numerous sacrosanct sacred writings - Guru Granth Sahib, Dasam Granth and different relics.
6. Shri Anandpur Sahib, Punjab
Shri Anandpur Sahib is located in the north of Chandigarh, with many Gurudwaras in the city. The most prominent Gurudwara here is Takht Sri Darbar Sahib Kesgarh Sahib, which is one of the Takhts of Sikhism. Here, the tenth Sikh Guru Sri Guru Gobind Singh Ji baptised the five beloved sikhs, called 'PANJ PYARAS'.
Additionally, Hola Mohalla and Vaisakhi are two festivals celebrated on a grand scale at this place in which pilgrims coming from far and wide participate in these festivals. To make your journey to Anandpur Sahib you can book Anandpur Sahib Gurudwara Tour Packages and experience the best Pilgrimage trips in India.
7. Gurudwara Sri Hemkunt Sahib, Uttarakhand
Famous for its architecture, Gurdwara Sri Hemkunt Sahib is situated in district Chamoli, Uttarakhand. Committed to the 10th Sikh Guru, Guru Gobind Sahib, Gurudwara Sri Hemkunt Sahib is situated at an elevation of in excess of 4000 mts above ocean level. This specific Sikh spot of love stays distant from October to April, and it is just in May that Sikh explorers begin coming here. Nestled amidst the high snow-capped mountains, Sri Hemkund Sahib redefines spirituality. To make your journey smooth and hassle-free Sahib you can book your Hemkund Sahib Tour Packages.
8. Gurudwara Shri Narayan Hari, Himachal Pradesh
Mainstream as Manikaran Sahib, Gurudwara Shri Narayan Hari is situated in Manikaran, around 45 km from Kullu. The Gurudwara is the result of 50 years of consistent work done by Baba Narayan Hari. As indicated by certain records, Baba Narayan came to Manikaran and began building a Gurudwara, where he raised a little wooden construction. Several times this Gurudwara was subjected to the wrath of the locals, who tore it down every time he started to rebuild it. However, Sant Narayan Hari did not lose hope and built a bigger Gurudwara within 50 years. Today, Manikaran Sahib is perhaps the most venerated Sikh spot of love in India.
9. Gurudwara Mandi, Himachal Pradesh
Gurudwara Guru Gobind Singh Ji is located in Mandi, Himachal Pradesh. This Gurudwara remains as an image of the confirmation given by Guruji to the Raja of Mandi. According to the story, Guru Gobind Singh was welcomed by Raja of Mandi, and at whatever point the most obvious opportunity for him to leave came. The King of Mandi unassumingly asked Guru Ji who will shield Mandi from Aurangzeb; in light of this inquiry, Guru Ji pointed his weapon at a pitcher coasting in the stream and shot, the pitcher as opposed to sinking continued gliding. Seeing this, Guru Gobind guaranteed the King of Mandi that, as the pitcher glided even in the wake of being taken shots at, Mandi would stay protected from any assault. A Gurudwara was subsequently built here, where this occurrence occurred, and one can see some of Guruji here even today.
Conclusion
The Sikh Pilgrimage places in India are amazing tourist destinations as there are many other things to do at these places besides worship and sightseeing. You can join the seva and volunteer to do small tasks in the gurudwara to have an authentic experience.
One can also go for special Panj Takht Tour Packages and services provided by Sikh Tours or go for the option of customized itineraries and tours. Sikh Tours is the Best Tour and Travel Company in India. It is also known for providing a privileged, comfortable and hassle-free travel experience that lets you indulge in the divine spirit of pilgrimage for these great shrines.